Asus P2L-M
P2L-M Mainboard Specification
Processor

Intel Pentium II Processor (233Mhz-333MHz)

Coprocessor
Internal Coprocessor of Pentium Processor

Intel Chipset
Intel's 440LX AGPset with I/O subsystems.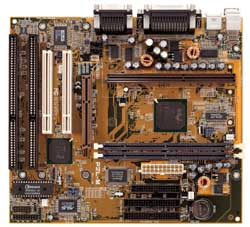 Bus Architecture
32-bit PCI Bus and 16-bit ISA Bus Compatible

Expansion Slots
2 x 32-bit PCI slots

2 x 16-bit ISA slots

1 x 32-bit AGP slot

AGP Connetor
Accelerated Graphics Port Connector Supports AGP 66MHz/133MHz (Sideband) 3.3V Device.

Cache Memory
512K or 256K Pipelined Burst Level 2 cache in Pentium II CPU cartridge.

System Memory
Two 168-pin DIMM Sockets to Support (8, 16, 32, 64, or 128MB 3.3V DRAM or SDRAM)

ECC/Parity Support

Total Memory Capacity: 256MB Max.

Wake-On-LAN
Support Wake-On-LAN standard by the Intel-IBM

On Board Audio
Sound BlasterTM16/PRO CompatibleISA,

On Board Super I/O
3 Audio Ports

1 Floppy Port (up to 2.88MB, Japan 3 Mode Floppy Supported)

2 Serial Ports (16550 Fast UART Compatible)

1 Parallel Port (ECP, EPP Port)

2

1 PS/2 Keyboard Port,

1

IrDA TX/RX Header (Optional)

On Board PCI IDE
Dual Channel UltraDMA/33 Bus Master IDE ports (Support up to 4 IDE devices and LS-120MB Floppy Drive) Support:

PIO Mode 3 4
DMA Mode 2
U-DMA/33



Greater Than 8.4GB HD, ATAPI IDE CD-ROM Support.

Power Supply Connector
3V, 5V and 12V 20-Pin ATX Power Connector. Soft Power Support

BIOS
Award AGP BIOS with enhanced ACPI, DMI, Green, Plug and Play Features

Anti-boot Virus BIOS

1M-bit Flash EPROM

Board Size
MicroATX Form Factor PCB 21.6cm x 24.4cm(8.5" x 9.6")

Options
IrDA cable

H/W Monitor: Optional Winbond ASIC to support Fan Status Monitoring and Alarm, CPU Voltage, System Temperature Monitoring and Alert.

S/W LanDesk Client Manager to Provides Total S/W H/W Server or Desktop Hardware Monitoring Solution.

Retention Mechanism Heat Sink Support Brace.

Asus P2L-M Вы можете обсудить на форуме.