Asus P2B-N
Processor

Single Slot 1 for Intel Pentium® III 600MHz, Pentium® II (up to 450MHz), and CeleronTM 500MHz processors.
Cache
CPU built-in with 512K/256K/128K/0K Level 2 cache.

Intel AGPset
Intel 440BX AGPset with PIIX4E South Bridge and 100MHz front-side bus (FSB) platform.

Memory
2 x DIMM sockets for supporting up to 512MB Intel PC100-compliant SDRAMs in total.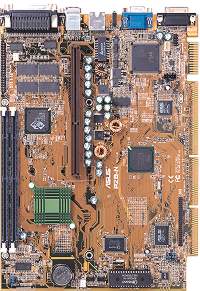 Onboard AGP VGA (optional)
ATI® 3D Rage Pro AGP 2X (8MB SDRAM) or Rage IIC (4MB SDRAM) for 3D hardware acceleration.

Onboard PCI Audio (optional)
ESS Solo-1TM 3D positional PCI Audio.

100/10Mbps Onboard LAN (optional)
Intel 82558 10/100Mbps Fast Ethernet Controller Supports Wake-On LAN

Onboard PCI IDE
Dual UltraDMA/33 BM IDE Ports.

Support greater than 8.4GB HDD.

ATAPI IDE CD-ROM LS-120 Supported

PC Health Monitoring (optional)
PC Health Monitoring ASIC supports CPU Voltage, Fan Status, and System Temperature Detection

Intel LDCM® S/W and ASUS PC Probe Utility Bundled

Expansion Slots
2 x 32-bit PCI Slot

1 x 16-bit ISA Slot (Share with PCI)

Onboard I/O
1 x Parallel Port (ECP, EPP support)

1 x Floppy Port (3 Mode, up to 2.88MB)

1 x USB Port (Support Hot-Plug Function)

1 x PS/2 Keyboard Mouse

1 x RJ-45 Speaker Output

1 x VGA Port

1 x Audio Port

1 x Game/MIDI Port

1 x IrDA Port

Enhanced ACPI BIOS
Award® BIOS with Enhanced ACPI feature for PC '98/ Windows 98 Compliance, DMI, Green, Plug Play, Features Plus Symbios® SCSI.

2M-bit Flash EEPROM.

Board Size
NLX Form Factor with size : 20.3cm x 28.4cm (8" x 11.2")

Asus P2B-N Вы можете обсудить на форуме.