Asus P2-99B
Processor

Supports Intel Pentium® III 450MHz~500MHz Processors.

Supports up to Intel CeleronTM266MHz processors.

Auto Detect and Regulate CPU Voltage From Being Overcurrent.

Flexible Settings of VIO Voltages

Chipset
Intel® 440ZX AGPSet Support with 100MHz Front Side Bus

Cache
Multi Pipelined Bursted L2 Cache Built-in

AGP Slot
Support ) 1X / 2X mode bus.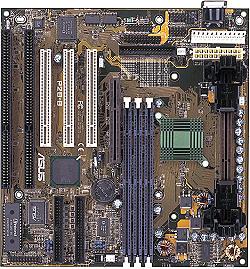 System Memory
3x 168-pin DIMMs Sockets Support 8MB to 256MB SDRAM for up to 512MB.

ECC or Parity support

On Board I/O
2 x USBMIR Ports

2 x Serial Ports

1 x Parallel Port (ECP, EPP Port)

1 x PS/2 Mouse Connector

1 x AT Keyboard Connector

On Board PCI IDE
2 x PCI Bus Master IDE Ports (Up to 4 IDE Devices). Support UltraDMA/33 : 33MB/Sec (Synchronous DMA Mode)

ATAPI IDE CD-ROM LS-120 supported

ATX Power Connector
Dual Function Power Button.

Keyboard Power Up

Soft Power Off Supported

Wake-up on Modem Ring, LAN, Keyboard, PS/2 Mouse, RTC Timer.

Supports Power Supply Thermal Sensor Connector

AC Power Loss Recovery Supports

Expansion Slots
3 x 32-bit PCI slots

1 x 32-bit AGP slot

2 x 16-bit ISA slots

BIOS
Award® AGP BIOS with Enhanced ACPI, DMI, Green, PnP. Features Plus Trend ChipAway Virus codes (TCAV) Symbios® SCSI BIOS.

Year 2000 Test Approved, CE, FCC Logos

2M-bit Flash EEPROM

Write-Protection Flash From Being Infected by Boot Virus

Special Features
Universal Retention Mechanism

Board Size
Baby AT Form Factor with size : 22.1cm x 22.9cm (8.7" x 9.0")

Asus P2-99B Вы можете обсудить на форуме.