Asus KN97
Processor

Intel Pentium II Processor (233Mhz-266MHz)
Coprocessor
Internal Coprocessor of Pentium Processor
Intel Chipset
Bus Architecture
32-bit PCI Bus and 16-bit ISA Bus Compatible

Expansion Slots
5 x 32-bit PCI slots

3 x 16-bit ISA slots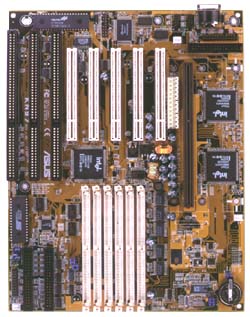 Cache Memory
512K or 256KB Pipelined Burst Level 2 cache in Pentium II CPU cartridge.

System Memory
Six 72-pin SIMM Sockets Support 8MB to 384MB Memory Capacity. Use 4/8/16/32/64MB 72-pin DRAM Module with 5V or Fast Page Mode DRAM.
ECC/Parity Support
Total Memory Capacity: 384MB Max.

On Board Super I/O
1 Floppy Port (up to 2.88MB, Japan 3 Mode Floppy Supported)

2 Serial Ports (16550 Fast UART Compatible)

1 Parallel Port (ECP, EPP Port)

IrDA TX/RX Supported

On Board PCI IDE
2 x PCI Bus Master IDE ports (Support up to 4 IDE devices and LS-120MB Floppy Drive) Support:
ATAPI IDE CD-ROM Support.

PnP Audio
Optional Creative Labs ViBRA 16CL/CX 16-bit ISA Audio with OPL-3 FM Synthesizer Built-in3D Audio EnhancementFull Duplex AudioATX Power Connector3V, 5V and 12V 20-Pin ATX Power Connector. Soft Power Support Voltage Regulator
Built in Switching Voltage Regulator to Supports 2.1V to 3.5V
BIOS

Award Pentium Pro / Pentium II PCI BIOS with DMI, Green, Plug and Play Features

Symbios PCI SCSI BIOS

1M-bit Flash EPROM

Board Size
Baby AT Form Factor 27.2cm x 22.2cm (10.7" x 8.7")

ATX Double Decker
2 x USB Ports, 1 x Game Port, 1 x PS/2 Keyboard Port,1 x PS/2 Mouse Port,1 x Parallel Port,1 x Audio Line-in Port, 1 x Audio Speaker Out Port,1 MIC Port, 2 x COM Ports.
Options 1: Onboard USB, PS/2 keyboard mouse connector board
Included 2 USB ports, 1 PS/2 mouse port, 1 PS/2 keyboard port
Options 2

H/W Monitor: Optional LM78 to support Fan Status Monitoring and Alarm, System Temperature Monitoring and Alert,

S/W LanDesk Client Manager to Provide: Total S/W H/W Server or Desktop Hardware Monitoring Solution.

Retention Mechanism Heat Sink Support Brace.

Asus KN97 Вы можете обсудить на форуме.